Goals
To help educators working in early childhood centers or settings to organize their environment in order to increase diversity and to encourage all children to use all types of toys.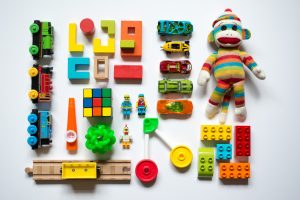 Brief description of the issue
When you wander in children's toys and clothes shops' aisles, it is easy to draw a line between the boys' sections and the girls'. Is the way toys are arranged in your workplace also reinforces gender stereotypes in the same manner? According to the Secrétariat à la condition féminine (2011, p. 19), "the gendered distribution of activities and toys can generate a space segregation: girls gather at the table to draw, creating a 'girl corner', and boys play together with a construction game in another corner, for example. It may happen that once this organization is well set, children find it hard to cross the physical and symbolic border between the 'girl' and 'boy' corners, even though they feel the desire of changing activity or joining their friends." We therefore have to think about how we organize the playroom in order to make sure boys and girls play together and are able to play with toys usually associated with the opposite sex.
A few useful tips
Here are a few useful tips for organizing a supportive environment for gender equality, retrieved from a document named Les livres et les jouets ont-ils un sexe ? (SCF, 2013, p. 23) :
Avoid dividing the space in playing corner for boys and for girls; pay specific attention to colors and other things used to delineate the different activity corners.
Make sure each playing area encourages interactions between boys and girls, therefore combating gender segregation.
Make sure there is a diversity of books and toys available for all children; also, proceed to a periodic rotation of toys and books between different groups.
In each playing area, make sure there is diversified material in a sufficient amount that might be of interest for boys and girls alike (for example, instead of only offering princess dresses in the "costume corner", add animals, jobs and other characters' costumes, real hats and helmets, etc.).