Goals
Raise awareness about the hypersexualization phenomenon ;
Invite teenagers to think critically and reflect on stereotypical models they have been shown since their early childhood.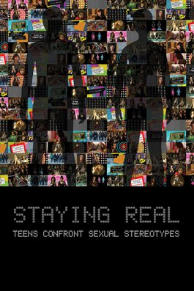 Brief description of the issue
Tweens and teens are more and more a target clientele for the fashion and the music industry. At a moment where students start high school and begin to construct their identity, they are bombarded with unreachable beauty standards. Girls being particularly sensitive to the transition between elementary level and high school, it is crucial to talk about gender stereotypes and to help students develop a critical eye to facilitate this transition, avoid leading them to reproduce unrealistic and hypersexualized images and foster their academic perseverance.
A documentary geared to 11 to 13-year-olds in which preteens and teens discuss the adverse effects of the sexual stereotypes they're bombarded with. They talk about how hard it is to develop their own personality and make friends when they don't conform to media and advertising images.
To order the film, visit the National Film Board: Staying Real – Teens Confront Sexual Stereotypes
The film comes with a teachers facilitation guide (see "Documents" section below) that proposes three options to view and discuss the film with your students, that is you can facilitate one, two or five workshops (60 to 75 minutes each, according to the time available).
These workshops touch on the following sexuality education concepts:
Sexual Growth and Body Image
Advantages of having a positive body image
Influence that social norms can have on body image
Identity, Gender Stereotypes and Roles, and Social Norms
Reflect in critical manner on representations of sexuality in the public space;
Click here to find the teacher's facilitation guide, developed by the YWCA Montreal and the National Film Board, or find it in the Documents section below.