Goals
Give young boys male readers role models ;
Break down the stereotype that portrays reading as a female activity.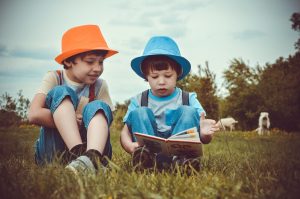 Brief description of the issue
Boys' difficulties in reading and writing skills are one factor that is linked to their school dropout rate, which is higher than girls' (Boyer, 2009). Because of their socialization, not naturally, boys fall behind in reading compared to girls and are less motivated to read (Lavoie, 2011). To minimize this gap, we must develop with boys an appreciation for reading starting in early childhood and break down stereotypes stating that reading is an essentially female activity. Father and son reading activities are an excellent way for young boys of developing not only reading skills, but also a real interest in books.
Strategies to generate interest in reading for boys
There are many ways we can light up the interest of boys into reading. Here are a few ideas shared by Amélie Cournoyer (2017) in a recent post:
Give him male role models: invite his father, uncle or another significant man to read him books or to share a moment around literature with him;
Create a reading area: arrange, in his bedroom or elsewhere in the house, a calm, comfy and bright space, suited for reading;
Make sure he has access to books and to a variety of literary genres:it is the best way to help your boy determine his reading preferences;
Let him choose his books while offering him a variety of choices and bringing him to discover new books: this way, reading will stay a fun activity and not a chore;
Subscribe him to the local library: this way, he will get access to a lot of books and will be able to borrow the ones he's interested in;
Multiply activities around reading: have him read with you (cookbooks, instruction manuals, brochures, letters, etc.), talk with him about books or go out together to a reading event (storytelling sessions, library, bookstore, festival of authors, etc.).
Put forward various models of masculinity
If encouraging boys to read from a very young age helps them to develop stronger reading skills, essential to school success, we must also present them diversified models of masculinity that challenge stereotypes traditionally associated with boys, since a weak adherence to those stereotypes is linked to a better school retention. Many books and the media can teach boys to free themselves from arbitrary dress codes (Morris Micklewhite and the Tangerine Dress), to freely choose their toys (William's Doll), to do what they like (Julián is a Mermaid), to take care of others (Steven Universe), to be sensitive (Louis Undercover) and to be just themselves (You can be). When children are shown sensitive heroes or characters finding fulfillment in various activities (even traditionally female ones), boys learn that there are many ways to be a boy and that they can also like traditionally female activities such as reading.
Multiply father and son reading activities
Because reading role models children have are mainly female, it is important to create specific father and son reading moments, at home or in more formally organized activities. For example, an activity could be organized at the local library or in a family community organization where fathers are invited to come to read a book with their son. It is also important to encourage parents to equally share out loud reading activities, so children don't associate reading to a strictly female activity.
References
BOYER, Marie-Christine (2009). La lecture et l'écriture chez les garçons… de A à Z. Ministère de l'Éducation, du Loisir et du Sport, Québec, 33 pages. Accessible at: http://www.education.gouv.qc.ca/fileadmin/site_web/documents/PSG/statistiques_info_decisionnelle/LaLectureEtLEcritureChezLesGarcons_DeAaZ.pdf
COURNOYER, Amélie (2017). "La lecture et les garçons", Allôprof parents, consulted on November 15th, 2018, accessible at: https://www.alloprofparents.ca/articles-d-experts/le-cheminement-scolaire/garcons-lecture/
DUJOUX, Florence (2017). "Les garçons aussi ont le droit de pleurer", Planète F.
LAVOIE, Natalie (2011). "Les garçons aussi aiment lire", Québec français, (162), pp. 49-50.