Goals
Develop, as a team, a better understanding of LGBTQ+ issues ;
Collectively reflect on measures against homophobia and transphobia to implement in school.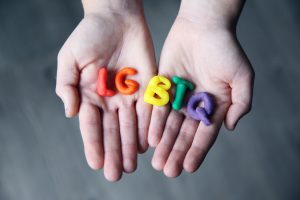 Brief description of the issue
Fighting homophobia and bullying is a priority across schools of the province. Homophobia is often rooted in gender stereotypes dictating what should be considered as masculine or feminine, with the goal of reinforcing others' endorsement of gender stereotypes. Yet, youth having the strongest buy-in of gender stereotypes are the ones who drop out of school the most. It is therefore crucial to break down gender stereotypes to foster school retention and to create a homophobia-free environment.
It is sometimes difficult for educators to be aware of all the situations happening between students and to see if a situation is really problematic, i.e. to which extent the impacts on the victims are important. For example, a situation that can seem unproblematic to a heterosexual teacher, but in the eyes of a gay or trans student, it is really problematic and has concrete consequences. It can therefore be difficult to act rightfully.
However, it is crucial to act every time. Indeed, recent research has clearly shown that homophobia, transphobia and gender-based harassment are the main factors of bullying in school and that they are harmful to all students. Studies reveal that homophobic and transphobic comments or gestures still go unnoticed by adults working with youth.
To better understand those sometimes ambiguous situations and to know how to act respectfully with LGBT students, here are a few activities and training sessions that can be done with the school team: