Goals
To provide a guide for communities, program administrators, service providers, policy makers and governments to work towards achieving a shared vision that all Indigenous children have the opportunity to experience high-quality, culturally-strong early learning child care..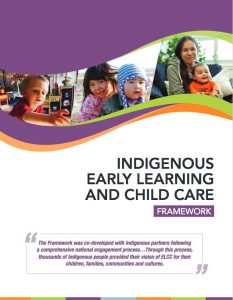 Brief description of the issue
Culturally-specific and inclusive early learning childcare services are essential to a good start in life. When attending childcare services, children learn to build healthy relationships with others and to develop all four dimensions of their self: spiritual, physical, emotional and intellectual. In order to foster school retention in the long term, children must learn to be their true self and to stay away from gender stereotypes.
As stated in the preamble of the document, "the Indigenous Early Learning and Child Care Framework represents the Government of Canada and Indigenous peoples' work to co-develop  a  transformative Indigenous framework that reflects the unique cultures, aspirations and needs of First Nations, Inuit and Métis children across Canada."
The guide puts emphasis on gender and family diversity, recognizing how colonization of traditional governance systems and the marginalization of Indigenous economies negatively impacted traditional protocols and laws in which used to be rooted the inherent responsibilities of and towards women. It also looks at the roles of fathers and mothers as equal caregivers for children, and how educators can value these roles, regardless of gender.
This framework offers a strong basis for a working team looking at improving its educational program in terms of cultural relevance for First Nations and inclusiveness of all genders.
You can find the English and French versions of this framework in the document below.